Featured Cat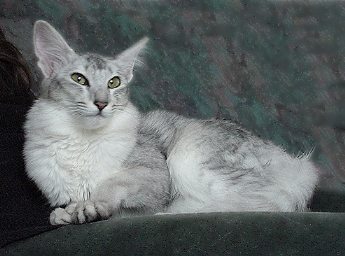 CH Rakiscats Lady Drusilla (of Mirrormere)
shaded silver Oriental Longhair female in Korschenbroich, Germany
[littermate to GC Rakiscats Lady Dortujla]
---
Kittens / Cats
If you are interested in breeding shaded silver Oriental Longhairs, please e-mail me.
Inquiries will be answered promptly.


---
At Stud to Approved Queens
Clowntown's Yardin of Rakiscats - chocolate smoke point Balinese variant

SGC,CH Rakiscats Sandor - chocolate silver shaded Oriental Longhair

Rakiscats Muritan - seal point Balinese

QGC,CH Rakiscats Laith - chocolate (shaded) silver ticked tabby Oriental Longhair

Louie D'Aranid*RU (Louie D'Aranid of Rakiscats) - seal lynx point Siamese (POSH) from Kiev, Ukraine



---
Research Projects
lymphoma, including juvenile MFNL (mediastinal FeLV-negative lymphosarcoma)
adenocarcinoma (mammary cancer), vaccination-site sarcomas and other cancers
CRF (chronic renal failure) and renal amyloidosis
hepatic amyloidosis
hypertrophic cardiopathy
IBD (inflammatory bowel disease) and other gastrointestinal problems
GM1 gangliosidosis

The original CAFIX color charts - calculate in advance the colors possible in a litter, or figure out why you got those "surprise" kittens!

Please pardon our dust!
---